Security Awareness Training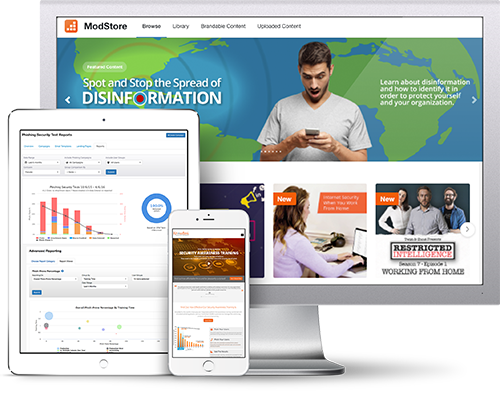 ---
Old-school Security Awareness Training doesn't hack it anymore to protect against phishing, hacking, and ransomware. Today, your teachers and staff are frequently exposed to sophisticated phishing and ransomware attacks, and above all, endanger your district's staff and data.
KnowBe4 is the platform for new-school security awareness training. So, we partner with KnowBe4 to help you keep your district users on their toes. In other words, Security becomes top of mind. With this platform, you can train and phish your users regularly. You then see their Phish-prone percentage™ improve over time. In sum, the platform provides results you can measure.
Tech Reformers can even completely run it for your district! You have no extra work after set up.

Baseline Testing for Phishing Vulnerability
We provide baseline testing to assess the Phish-prone percentage of your users. Above all, the simulated phishing attack is worth the effort to protect against phishing, hacking, and ransomware.
---
Train Your Users to Recognize Phishing
The world's largest library of security awareness content. Training includes interactive modules, videos, games, posters, and newsletters. We reinforce learning with automated training campaigns and scheduled reminder emails.
---
Phish Your Users
The best-in-class, fully automated simulated phishing attacks have thousands of templates with unlimited usage.
---
See The Results of Phishing Tests
Enterprise-strength reporting shows stats and graphs for both security awareness training and phishing results. Show the great ROI!
---
Cybersecurity and Infrastructure Security Agency (CISA) Security Tip (ST04-014)
---
JUST ADDED: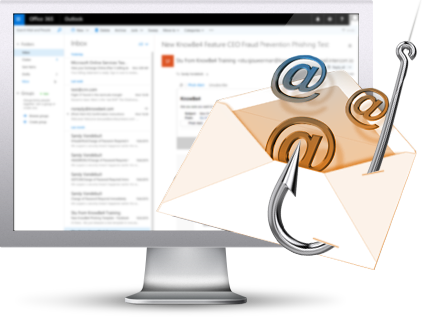 Free Phish Alert Button
Give Your Employees a Safe Way to Report Phishing Attacks with One Click!
Do your users know what to do when they receive a suspicious email?
Should they call the help desk, or forward it? Should they forward to IT including all headers? Delete and not report it, forfeiting a possible early warning?
KnowBe4's Phish Alert add-in button gives your users a safe way to forward email threats to the security team for analysis and deletes the email from the user's inbox to prevent future exposure. All with just one click! And now, supports Outlook Mobile!

Ransomware Simulator
Is your network effective in blocking ransomware when staff falls for social engineering attacks? KnowBe4's Ransomware Simulator "RanSim" gives you a quick look at the effectiveness of your existing network protection. RanSim will simulate 20 ransomware infection scenarios and 1 crypto mining infection scenario to show you if a computer is vulnerable. Run it on your typical staff image.

Download RanSim:
https://info.knowbe4.com/ransomware-simulator-tool
---

Domain Spoof Test
Are you aware that one of the first things hackers try is to see if they can spoof the email address of someone in your own domain? Now they can launch a "CEO fraud" (Or Superintendent/CFO fraud) spear-phishing attack on your district. That type of attack is very hard to defend against because the emails look real. Unless your staff is 'security awareness' trained, your district may be susceptible. KnowBe4 can help you find out if this is the case with the Domain Spoof Test. Can you be spoofed?

Find out now:
https://info.knowbe4.com/domain-spoof-test
---

Phishing Security Test
Did you know that 91% of successful data breaches started because of a spear-phishing attack? Find out what percentage of your teachers and staff are Phish-prone with this phishing security test. Why? If you don't do it yourself, the bad actors will. The Phish-prone percentage is usually higher than you expect so the results may great ammo to get your district going.

Start phishing your users now:
https://info.knowbe4.com/phishing-security-test
---

Email Exposure Check Pro
Find out your current email attack surface now with KnowBe4's Email Exposure Check Pro (EEC). EEC Pro identifies your at-risk users by crawling business social media information. It now also scans thousands of new breach databases to help you find even more of your users' compromised accounts.

Find out now:
https://info.knowbe4.com/email-exposure-check-pro
---

Weak Password Test
Verizon's Data Breach Report showed that 81% of hacking-related breaches used either stolen and/or weak passwords. KnowBe4's Weak Password Test checks your Active Directory for 10 different types of weak password related threats. It reports any failures so that you can take action. This will take you 5 minutes and may give you some insights you never expected! You'll download an application and receive a license key in your email. Point it to your AD to get your results. Safe to use.

Find my weak passwords:
https://info.knowbe4.com/weak-password-test
---

Domain Doppelganger
Since look-alike domains are a dangerous vector for phishing and other social engineering attacks, it's a top priority that you monitor for potentially harmful domains. You must be aware of domains that can spoof your domain. The Domain Doppelgänger tool makes it easy for you to identify your potential "evil domain twins." It combines the search, discovery, reporting, and risk indicators, so you can take action now.

Find out if your domain has an evil twin:
https://info.knowbe4.com/domain-doppelganger
---
See how easy it is to train and phish your users. Request a demo to learn more.
Or, just connect below and we'll follow up with more information.
On-demand Webinar on how to investigate phishing